Art and houses at Djurgården
Date: Wednesday 11 mar 2020 - Sunday 1 Nov 2020
Show map
The current name Djurgården originates from the King John III game park, which he declared intent to realize in February 1579 to keep deer, reindeer and moose.
In 1667, some cottages were built for "paralyzed and associated sailors" who formed what would become Djurgårdstaden.
In the late 18th century, Djurgården was transformed into more of a popular recreation area than a Royal Game Park; In 1801, the theater Djurgårdsteatern was opened, which would be one of the most popular facilities there during the 19th century.

King Charles XIV John's creation of the Rosendal Palace in the 1820s marked Djurgården's development as a magnificent residential area, combined with the creation of several entertainment venues in the late 19th century, including Gröna Lund 1883 and Skansen 1891.
At a café just south of Skansen, in the block Alberget, the sports club Djurgårdens IF 1891 was founded. Many buildings on the western part of Djurgården go back to Stockholm's World Fair in 1897, including the Djurgårdsbron, the main bridge to the island.

One of the most prominent buildings in the exhibition, an exhibition hall of 16,820 m² in wood, design by architect Ferdinand Boberg and with a 100 meter high dome and 4 minarets, is demolished after the exposition along with many other pavilions built in non-permanent materials.
Djurgården is known for its many attractions and for its nature with many old oaks. There are also lots of sculptures and several interesting cultural houses that tell about who lived here before and what professions they had.

This city walk takes you out into the countryside, but also to hidden little streets and alleys with charming wooden houses. We also make visits to an almost forgotten cemetery. Hear stories about Djurgårds-Kalle, Artur Hazelius and Bellman.

Includes: Authorized guide for 2 h.
Show more
Book now - choose start date and product
Hotel
Distance: 1.4 km
Prime city center location, in the heart of Stockholm. Hotel Kungsträdgården - The King´s Garden Hotel is now opened! The King´s Garden Hotel welcomes you to a warm and cozy atmosphere. Located at prime location in the middle of Stockholm. The hotel offers 98 unique rooms, possible meeting facilities, restaurant and bar, Brasserie Makalös, gym and sauna. Welcome to your new residence in Stockholm.
Hotel
Distance: 1 km
In a very beautiful and welcoming setting in harmony with beautiful natural surroundings of Djurgården , just 5 minutes from Stockholm's bustling city center, you will find Villa Källhagen . It offers accommodation in beautiful, bright rooms , meetings in unique and inspiring conference rooms , something to the life of our reputed restaurant or an unforgettable event in our banqueting rooms.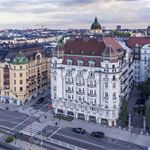 Hotel
Distance: 793 meters
Hotel Esplanade is a personal homely hotel in beautiful well-preserved Art Nouveau environment with excellent central location on Strandvägen. Walking distance to Djurgården (the park), The Old Town (Gamla Stan) and Stureplan. Buffet breakfast and wifi included in the price.