Enjoy the fantastic atmosphere at Stockholm Oktoberfest in August 2018 with strong beer directly from Bavaria, German food and live bands – now even better with special offer to students on Wednesday 15th the fantastic "Heidi" models on Thursdays on August 16th.
Welcome to the famous Oktoberfest Stockholm – a festival of Lederhosen, beer and pop music! We celebrate with the happy mood in a tent of 2,100 people.

Oktoberfest has a long tradition that started in Munich 200 years ago. We celebrate that the harvest is gathered. When you get to the tent, you will feel like you are in Munich. Blue and white are the colours that characterise an authentic Oktoberfest tent and our waitresses and waiters are dressed in Dirndl and Lederhosen because that's how we dress at Oktoberfest.The tent will be filled with long tables, we serve a lovely 1 liter beer that is brewed for Stockholm Oktoberfest and it is certain it won't be long till you feel like singing along and standing on the benches. It's the genuine Oktoberfest – sing along and just socialise – a motto that guarantees a great evening. Our beer is brewed according to the German Reinheitsgebot (German Beer Purity Law) and is 5.0% vol. – Oktoberfest beer you'll love.

Entrance is free on Wednesday and Thursday.On Friday and Saturday the entrance is 60 krona. We have beer, cider and food for sale. Fantastic Tyrolermusik and Bavarian beer, which is served by women in Dirndl and men in Lederhosen. The festival takes place 15th to 18th of August. We bring our own beer directly from Bavaria, Germany.

Come and experience the amazing atmosphere!
Street address 1
Gärdet, Lindarängsvägen
Postal code
115 28
City (address)
Stockholm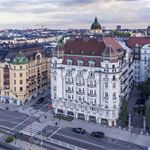 Hotel
Distance: 2.4 km
Hotel Esplanade is a personal homely hotel in beautiful well-preserved Art Nouveau environment with excellent central location on Strandvägen. Walking distance to Djurgården (the park), The Old Town (Gamla Stan) and Stureplan. Buffet breakfast and wifi included in the price.
Hotel
Distance: 815 meters
In a very beautiful and welcoming setting in harmony with beautiful natural surroundings of Djurgården , just 5 minutes from Stockholm's bustling city center, you will find Villa Källhagen . It offers accommodation in beautiful, bright rooms , meetings in unique and inspiring conference rooms , something to the life of our reputed restaurant or an unforgettable event in our banqueting rooms.
Hotel
Distance: 2.9 km
Prime city center location, in the heart of Stockholm. Hotel Kungsträdgården - The King´s Garden Hotel is now opened! The King´s Garden Hotel welcomes you to a warm and cozy atmosphere. Located at prime location in the middle of Stockholm. The hotel offers 98 unique rooms, possible meeting facilities, restaurant and bar, Brasserie Makalös, gym and sauna. Welcome to your new residence in Stockholm.