Gålö Havsbad/Cottages
Address

: Skälåkersvägen 11, 13691 Haninge
show map
Location: Stockholm
Cabin villages | Welcome to Gålö Havsbad! Since 2010 Gålö Havsbad has provided a four-star tourist facility situated at the heart of a beautiful and peaceful nature reserve by Stockholm's longest sandy beach – a paradise for all ages.
There are 86 cottages of varying styles: everything from basic cabins to fully equipped cottages with shower, WC, TV and microwave. All our cottages are non-smoking. Pets are allowed in some cottages. Check in from 15.00 - Check out at the latest 12.00.

Gålö Havsbad is a tourist facility just 35 km south of Stockholm. We are situated at the heart of a nature reserve by Stockholm's longest sandy beach.

The area is rich in wildlife and there are fantastic views out to sea from the rocks and the beach. You may even be lucky enough to see elk and white-tailed eagles on the same day!

You can fish for Baltic herring and salmon trout from a rock or from one of our hire boats.

Savour good food and drink in our restaurant and enjoy our troubadour evenings. Our activity leaders ensure lots of fun for our younger guests in our Kids' Club.

Reception or our mini-convenience store are the places to come for fresh bread in the mornings and for advice and tips on making the most of your adventures in the archipelago and Stockholm.

Welcome to Gålö Havsbad on the Stockholm Riviera!

Check in from 3 p.m. - Check out at the latest 12.00 a.m.

Reception open during high season: 8 a.m. to 9 p.m.

Pets are allowed.

Smoking is forbidden.
Compare "Gålö Havsbad/Cottages" with similar alternatives
Charming hotel situtated in the idyllic residential area of Enskede, very close to Metro station with direct trains to Stockholm city (10-15 min.) and Globe Arena/Tele2 Arena (5 min.). By car it's 10 minutes to The Stockholm International Fairs and with bus it's about 15 minutes.
In a very beautiful and welcoming setting in harmony with beautiful natural surroundings of Djurgården , just 5 minutes from Stockholm's bustling city center, you will find Villa Källhagen . It offers accommodation in beautiful, bright rooms , meetings in unique and inspiring conference rooms , something to the life of our reputed restaurant or an unforgettable event in our banqueting rooms.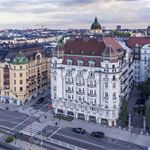 Hotel Esplanade is a personal homely hotel in beautiful well-preserved Art Nouveau environment with excellent central location on Strandvägen. Walking distance to Djurgården (the park), The Old Town (Gamla Stan) and Stureplan. Buffet breakfast and wifi included in the price.