Maude's Hotel Enskede Stockholm
Address

: Svedmyraplan 3, 12248 Enskede
show map
Location: Stockholm
Hotel | Charming hotel situtated in the idyllic residential area of Enskede, very close to Metro station with direct trains to Stockholm city (10-15 min.) and Globe Arena/Tele2 Arena (5 min.). By car it's 10 minutes to The Stockholm International Fairs and with bus it's about 15 minutes.
Maude's Hotel Enskede is located in the idyllic residential area with excellent public transportation links to Stockholm city centre, Stockholm Globe Arena, Tele2 Arena and Stockholm International Fairs. The Svedmyra underground station is just steps away, providing easy access to all areas of the town, only 12 minutes to the city centre and 5 minutes to the Globen area.

The hotel is non-smoking, and interiors are both spacious and contemporary, enhanced by a wealth of comfortable comforts. Maude has devoted much thought, effort and time to create a modern, intimate and cosy atmosphere in the rooms. Skilled craftsmen have created the bedframes and the working desks after Maudes own design and drawings. There are 4 different room types with soothing earth-toned colours and modern décor. The rooms are tastefully designed with functional working desk, LCD-TV, comfortable beds and bathroom with underground heating floor.

In the lounge or on the beautiful summer terrace you can enjoy a cup of coffee or a drink during the day or in the evening. There are several restaurants within easy reach and our multilingual staff are delighted to be of assistance with the questions and queries that you might have during your stay with us. You can also take full advantage of a complimentary private parking area, wireless Internet connection and coffee/tea with homemade cookies in the lounge.

Please contact the hotel if you plan to arrive after 23.00/11am.

Do you arrive by car?
The hotel offers free outdoor parking.
Compare "Maude's Hotel Enskede Stockholm" with similar alternatives
Prime city center location, in the heart of Stockholm. Hotel Kungsträdgården - The King´s Garden Hotel is now opened! The King´s Garden Hotel welcomes you to a warm and cozy atmosphere. Located at prime location in the middle of Stockholm. The hotel offers 98 unique rooms, possible meeting facilities, restaurant and bar, Brasserie Makalös, gym and sauna. Welcome to your new residence in Stockholm.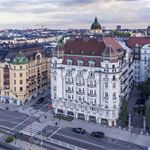 Hotel Esplanade is a personal homely hotel in beautiful well-preserved Art Nouveau environment with excellent central location on Strandvägen. Walking distance to Djurgården (the park), The Old Town (Gamla Stan) and Stureplan. Buffet breakfast and wifi included in the price.
Nordic C Hotel is the hotel that gives you an experience of Stockholm. You'll find us in the city centre, right beside the Central Station and the express train to Arlanda Airport.